About Dr. Wayne Mortensen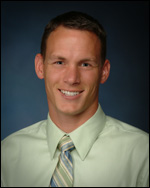 After growing up in Nampa, Dr. Mortensen attended Ricks College/BYU-Idaho, spent two years on a church mission in Argentina, and received his Bachelor's Degree in Nutritional Science at BYU in Utah. This is one dentist who knows how diet affects your teeth! After earning his Doctorate of Dental Medicine at the University of Louisville in Kentucky, Dr. Mortensen and his wife returned home to the Treasure Valley to be close to their families.
He views his role in oral healthcare as an educator, helping patients make educated decisions about their treatment. His easy-going attitude helps patients feel comfortable in his chair right away. That attitude also allows him to enjoy all the things Idaho has to offer, including camping, swimming, water skiing, and watching or playing most any sport. The Dr. has recently taken up golf, so feel free to offer some tips during your visit!
People may be surprised to know that Dr. Mortensen has driven from the Pacific to Atlantic coast. Each time he drives into a new state, he stops the car and takes a photo of the state border sign. He hopes to one day have a picture collection of every state welcoming him to that state.
After traveling around the country and overseas, Dr. Wayne Mortensen is thankful to be back home in Idaho.